IMPACT10 TO BENEFIT 10 LOCAL CHARITIES (Monogram Foods to Give Away $100,000)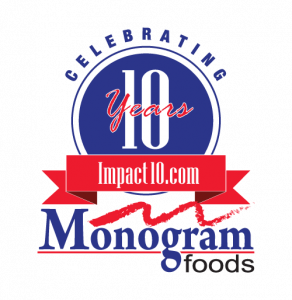 MEMPHIS, TN – (February 2, 2015) – In keeping with its mission to support and give back to its home community, Memphis-based Monogram Foods will celebrate its tenth anniversary through its creation of IMPACT10, a philanthropic campaign that will give away $100,000 to 10charities in Memphis and the Mid-South.
IMPACT10 recipients will be randomly selected to receive $1,000 a year for the next 10 years. As part of the IMPACT10 charitable effort, Monogram also pledges to perform 10 acts of kindness in Memphis and the Mid-South area, and encourages participants to do the same. Nominations of deserving charities can be submitted through the IMPACT10 website at www.impact10.com.
Since its inception 10 years ago, Monogram Foods has become a leader in the nation's meat snack industry and has created a proud tradition of investing in the communities where its employees live. Follow Monogram Foods and the IMPACT10 campaign on Twitter, Facebook and Instagram@MonogramFoods with #IMPACT10.
About Monogram Foods 
Founded in 2004 with the purchase of King Cotton and Circle B Brand meats from Sara Lee Corporation, Monogram Foods manufactures and distributes top-quality food products. Monogram Foods brands include: Wild Bill's, O'Brien's, Trail's Best, Hannah's, Bull's and licensed brands Bass Pro Shop's Uncle Buck's, Johnsonville and Butterball. Monogram Foods also produces a wide variety of private-label brand meat snacks, smoked meats, corn dogs and pre-cooked bacon for strategic partners throughout the nation. Monogram Foods operates facilities in Virginia, Minnesota, Indiana, Texas and Iowa.
For more information, please visit www.impact10.com or contact: Blair Jackson, Communications Coordinator,Monogram Foods, bjackson@monogramfoods.com, or (901) 654-2869