LoveWay Appreciates Local Donor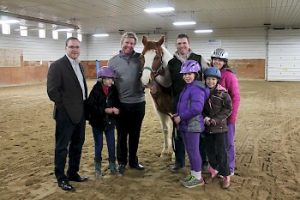 When Monogram Foods arrived in Bristol back in 2012 it immediately began making a positive impact on the community. Through its Monogram Loves Kids Foundation the business had donated more than $27,000 to LoveWay Therapeutic Equestrian Services. 
In December LoveWay used  large donation from Monogram to buy a much needed ATV. "We have 29 acres of land for our horses, which is great, but it does make feeding them a bit of a challenge," noted LoveWay Executive Director Eric Pianowski. "The Kubota ATV we purchased with help from Monogram is a major asset for us, especially during the winter." 
LoveWay is located at 54151 CR 33 in Middlebury. More information is available online at www.lovewayinc.org or by phone at (574) 825-5666. 
Article from Goshen the PAPER Tues. March 8, 2016 edition