Monogram Foods CEO Honored with Prestigious Industry Award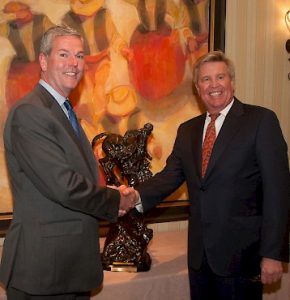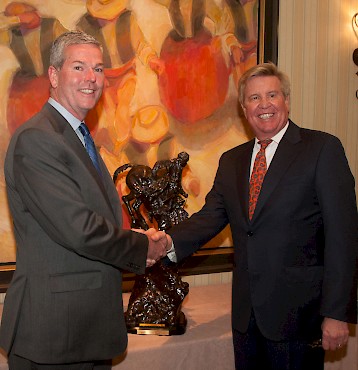 ​
MEMPHIS, TN – (March 27, 2017) – Karl Schledwitz, chairman and chief executive officer of Memphis-based Monogram Food Solutions, Inc., has been awarded one of the meat processing industry's top honors for his business leadership skills. Schledwitz is the 2017 recipient of The Richard L. Knowlton Award, which recognizes innovative skills, corporate citizenship and exceptional business acumen.
Schledwitz accepted the award at the annual conference of the Food Processing Suppliers Association in Carlsbad, Calif. on Thursday, March 16. The award is given annually by Meatingplace, one of the nation's leading information sources for the red meat and poultry processing industry.
"Karl Schledwitz is a modern-day Dick Knowlton who has found ways to transform existing companies into entrepreneurial giants," said Bill Kinross, Meatingplace publisher. "We need industry leaders like Monogram to continue to advance our industry."
Knowlton, the former chairman of Hormel, Inc., is regarded as one of the legendary leaders in the meat processing industry.
Schledwitz, along with his partner Wes Jackson, founded Monogram Foods in 2004 after they purchased King Cotton and Circle B brand meats from the Sara Lee Corporation. Based on the business formula of capitalizing on underutilized, affordable assets and neglected brands with major potential growth, Schledwitz and Jackson grew their small company of nine employees into one that today employs over 2,700 people working at eight manufacturing facilities in seven states. In total, through plant purchases and expansions, Monogram has saved over 1,000 jobs and created over 1,300 jobs since inception.
In making its decision to honor Schledwitz, Meatingplace also recognized that under Schledwitz's leadership, Monogram Foods last year invested over $35 million in plant expansions and upgrades across all Monogram Foods locations. This year, Monogram has plans to invest close to $40 million in continued plant upgrades.
Former recipients of the Knowlton Award include Jim Perdue, chairman of Perdue Farms; Donnie Smith, chief executive officer of Tyson Foods; and Joel Johnson, chairman and chief executive officer of Hormel Foods Corp.
About Monogram Foods: Founded in 2004 with the purchase of King Cotton and Circle B brand meats from Sara Lee Corporation, Monogram Foods manufactures and markets top-quality food products. Among these are a full range of meat snacks, corn dogs, pre-cooked bacon, smoked sausage, appetizers, pet treats and other value-added meats. Monogram Foods' brands include Wild Bill's, O'Brien's, Trail's Best, Hannah's, Bull's, Snapps and licensed brands Bass Pro Shop's Uncle Buck's, Johnsonville, Butterball and Team Realtree. Monogram Foods is a major co-packer and private label provider for strategic partners throughout the nation. Monogram Foods is headquartered in Memphis, Tenn. and operates facilities in Virginia, Minnesota, Indiana, Texas, Iowa, Massachusetts and Wisconsin.
###
Contact: Blair Jackson, Communications Coordinator, bjackson@monogramfoods.com, or (901) 654-2869 Find Monogram Foods on Twitter and Facebook @MonogramFoods