Monogram Loves Kids Foundation Now Accepting Grant Applications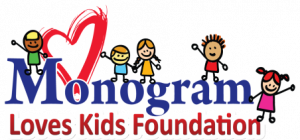 MEMPHIS,TN – (April 19, 2016) – The Monogram Loves Kids Foundation will award $200,000 to charitable organizations that sponsor programs benefiting children in the eight regional areas in which Monogram does business, including Memphis, TN; Martinsville, VA; Chandler, MN; Bristol, IN; Schulenburg, TX; Harlan, IA; Plover, WI and Boston, MA.
Charitable organizations interested in applying for these grants, which will range from $500 to $10,000, should visit monogramfoods.com to access the application form.(Click HERE to be directed to the application form) All applications must be mailed in to the address listed on the application, the Monogram Foods Support Center, by July 29, 2016.
The grant applications will be reviewed by a committee of team members at the Monogram Foods location nearest the applying charity. 
The Monogram Loves Kids Foundation was founded in 2010 as Monogram Foods' charitable fund to raise money for children's charities in areas of the country where Monogram team members live and work. Between 2010 and 2015, Monogram has donated over $750,000 to charities focused on children and their families.
About Monogram Foods: Monogram Foods is a major co-packer and private label provider for strategic partners throughout the nation. Monogram collaborates with key partners to create processes that bring new foods demanded by a modern marketplace. Monogram Foods is headquartered in Memphis, Tenn. and operates facilities in Iowa, Indiana, Massachusetts, Minnesota, Texas, Virginia and Wisconsin.
Founded in 2004 with the purchase of King Cotton and Circle B brand meats from Sara Lee Corporation, Monogram Foods manufactures and markets top-quality food products. Among these are a full range of meat snacks, corn dogs, pre-cooked bacon, smoked sausage, appetizers, pet treats and other value-added meats.
Monogram Foods' brands include Wild Bill's, O'Brien's, Trail's Best, Hannah's, Bull's, Snapps, King Cotton, Circle B and licensed brands Bass Pro Shop's Uncle Buck's, Johnsonville, Butterball and Team Realtree.
For more information, please contact: Blair Jackson, Communications Coordinator, Monogram Foods, bjackson@monogramfoods.com, (901) 654- 2869