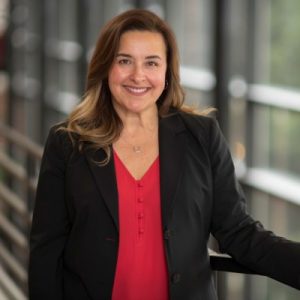 MEMPHIS, TENN. (August 1, 2022) – Monogram Foods ("Monogram"), a nationwide leader in developing, co-packaging, and manufacturing food products, announces that after a national search, Ana G. Rodriguez will join the company as its Chief People Officer. She fills the role formerly occupied by Mark Coomes who left Monogram in September of 2021.
"Monogram Foods is at a pivotal point in our growth trajectory, so it was important that we took ample time and care in selecting our next people leader," says Monogram Foods's Chief Executive Officer Karl Schledwitz. "From the first meeting, our team knew Ana was the clear choice. She is innovative, strategic, and most importantly, has a heart and passion for people."
Rodriguez has been a senior Human Resources executive for nearly 15 years, most recently serving as Senior Vice President and Chief Human Resources Officer for The Lubrizol Corporation, a global leader in specialty chemicals based in Cleveland, Ohio. In addition to her experience as an HR leader, she also previously worked as a corporate lawyer, helping companies strategically grow their business and build world class cultures.
Rodriguez joins Monogram Foods during a time of unprecedented growth. The company opened three new operations within the last year, bringing the total number of locations to 13 with more than 3500 team members. Monogram surpassed $1 billion in revenue in 2021.
"I am excited to join the Monogram Foods team," says Rodriguez. "The company has an incredible story and a strong strategic vision for continued success. I look forward to being part of the continued growth and building strong teams and a great workplace culture."
Rodriguez earned a Bachelor of Arts from California State University Long Beach and her Juris Doctorate from the University of Michigan Law School. She will live in Memphis, Tennessee, headquarters of Monogram Foods.
About Monogram Foods
Monogram Foods is a packaged foods producer and private label provider for strategic partners throughout the United States. Monogram manufactures and markets top-quality food products. Among these are a full range of meat snacks, appetizers, assembled sandwiches, raw and cooked bacon, corn dogs, bakery, and other convenience products. Monogram Foods is headquartered in Memphis, Tennessee, and operates 12 facilities in seven states. Monogram Foods surpassed $1 billion in revenue in 2021 and has been recognized on Inc. Magazine's annual list of America's fastest-growing private companies for 11 years.
At the heart of Monogram Foods is a deep commitment to attract and retain the best talent, foster an enjoyable culture, and to serve the communities in which we do business. The Monogram Foods Loves Kids Foundation has raised more than $15 million for organizations that serve children in our communities.
Media Contact:
Liz McKee
Monogram Foods
lmckee@monogramfoods.com